CT Scan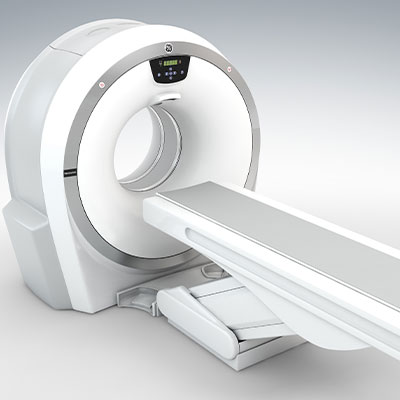 Features
Revolution ACTs ES inherits many of its technologies from GE Healthcare's most advanced CT systems. It is the centerpiece of our commitment to help you achieve your CT imaging requirements.
Higher Performance
Clarity Panel Detector: Innovative detector technology that delivers exceptional spatial resolution
Lower Electronic Noise: Integrated detector design built with modern chipsets and DAS on Detector (DoD) for high signal to noise performance
Efficient Design: Compact and power-efficient design with intelligent thermal management for quicker scans
Smart Dose
ViSR: Delivers up to 20% improvement in image quality at the same dose. Helps manage photon starvation in large-size patients and wide/dense anatomical objects
ODM: Reduces radiation dose by up to 40%. Acts as virtual shield to improve image quality
3D mA Modulation: Enables the system to optimize tube current in x-y-z directions with negligible effect on image quality    
Dose Watch: Tracks and monitors patients' cumulative radiation dose over time and takes intelligent steps to prevent excessive radiation dose
Smart Flow Technologies
Digital Tilt: Simple and fast digital tilt enables more effective scanning and ups workflow by 28%. Helps manage challenging and less cooperative patients
IQ Enhance: Advanced algorithms enable helical pitch acceleration up to 2.7x and helps patients breathe easier with shorter breath hold time
Technology
Advanced applications of Revolution ACTs ES help you take your practice to the next level. It provides you with the necessary information to make the best possible diagnoses for patients.
Volume Viewer: Get more information on the spatial relationships of different structures. Make 3D visualizations routine
Vascular imaging and processing: View oblique cross-sections of vascular images and rotate curved views to more clearly visualize vascular lesions
Navigation and fly-through: Use Virtual Endoscopy to visualize intra-luminal structures. A virtual 'fly-through' mode lets you view images dynamically
SmartPrep with dynamic transition: Transition from monitor phase to scan phase automatically