Neurosurgery
Our Department of Neurosurgery serves as a referral centre for patients with complex neurological conditions. The surgical team consists of competent & experienced neuro-surgeons to handle all kinds of neuro-surgical problems using latest innovations and techniques.
Neurosurgery Department has grown over the years to a fine centre of excellence offering comprehensive brain, spine and peripheral nerve care. We have Neuro ICU and an inpatient ward manned by dedicated nurses and allied specialists who offer all round care with compassion and love with an emphasis on evidence based clinical practice.
There is a dedicated operation theatre equipped with modern instruments to operate even the most complex neurosurgical disorders.
Dr. S Devaprasad
Neuro Surgeon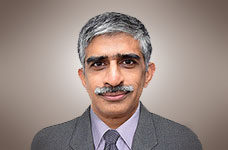 Dr. Nannukumar.M.K
Consultant Neurosurgeon